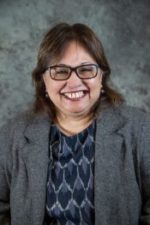 Taling M. Taitano
Chief Financial Officer
Phone
(671) 300-6860
Fax
(671) 646-2594
Email
tmtaitano@guamwaterworks.org
Taling M. Taitano is the Chief Financial Officer of the Guam Waterworks Authority (GWA). She joined GWA on September 30, 2019.
Taling has over 30 years of expertise of technical, operations and leadership in the finance/accountancy fields, including serving in both the government and private sectors.
For 10 years from October 2009 through September 2019, she held the position of the Guam Department of Education's Deputy Superintendent of Finance and Administrative Services; and was the Interim Superintendent of Education from July 2011 through June 2012.
Taling's past positions included Partner with Deloitte & Touche, Executive Director of the Guam Housing & Urban Renewal Authority (GHURA), Vice President/Chief Financial Officer of the Bank of Guam, Chief Financial Officer with StayWell Insurance, Inc. and Deputy Director of the Guam Department of Commerce.
Taitano is active in numerous professional organizations having served in leadership roles with the Guam Board of Accountancy, Guam Society of Certified Public Accountants, and the Association of Government Accountants. She also has held or currently holds leadership positions with the Soroptimist International of the Marianas, the Guam Council of Women's Clubs, the Guam Humanities Council, and the finance councils of the Santa Teresita and Our Lady of Lourdes Catholic Church parishes.
Taitano holds a BA in Business Administration from the University of Hawaii at Manoa. She is a Certified Public Accountant, Chartered Global Management Accountant and Certified Government Financial Manager.