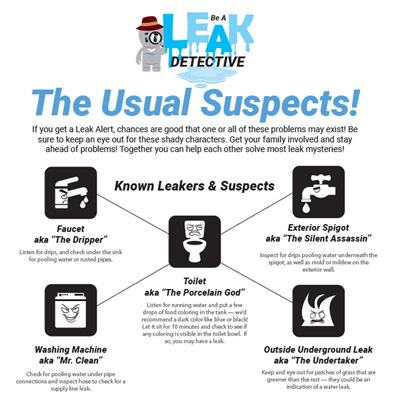 Water leaks at your household or business can cause thousands of gallons of water waste. GWA's Leak Alert Program sends courtesy notices to customers when increased water usage is detected, to inform customers of potential water leaks and avoid unexpected water bill increases.
---
HOW WILL GWA CONTACT ME WITH A COURTESY NOTICE?
You will be contacted via text message, phone call, postal mail and email with the contact information we currently have on file for your account.
We recommend checking your account details to ensure your contact information is accurate. You can easily check and/or update your contact information through our convenient Online Customer Service Portal at
gwa.custhelp.com. All you need is your account number and zip code!
WHY AM I RECEIVING A LEAK ALERT?
You will receive a leak alert notification if a large or sudden spike in water usage was detected, or if your meter recorded continuous flow for 24 consecutive hours (within 7 days of the reading date).
DOES RECEIVING A LEAK ALERT MEAN I HAVE A LEAK?
Not necessarily. The leak alert program also alerts customers that use 50% more water than the previous month. Some of these customers have purposefully used more water than usual (such as filling up a pool or water blasting), and will not have a leak to repair. If you are aware of your increased usage, you can disregard the notifications.
However, if 24-hour continuous usage is detected, a leak may be present, such as a toilet running or a dripping faucet.
MY PROPERTY HAS A LEAK, BUT I DID NOT RECEIVE AN ALERT — WHY?
While some leaks have continuous water usage, some leaks may only be intermittent.
Additionally, if you do not receive a leak alert, it could be due to GWA having out-of-date or incorrect contact information on file. You can review and update your contact information at gwa.custhelp.com.
DO I HAVE TO CONTACT GWA AFTER I RECEIVE A LEAK ALERT?
GWA's leak alerts are issued as a courtesy to our customers, so it is not necessary to contact our Customer Service Team when a notification is received. However, if you would like assistance with how to check for household leaks, we would be happy to direct you to our available resources.
IF A LEAK IS DETECTED, AM I RESPONSIBLE FOR FIXING IT?
If a leak is detected within the household or between the water meter and the property, it is the homeowner's responsibility to repair it.
If there is a leak between the meter and the public supply line, the repair responsibility is GWA's. If this occurs, please contact GWA's 24-Hour Dispatch at 671-646-4211.
IS MY LEAK REALLY WASTING THAT MUCH WATER?
On average, 14% of all GWA active customers have an ongoing leak recording on their meter. The table
below shows just how quickly small drips can add up to gallons wasted, not to mention the cost associated with undetected leaks!