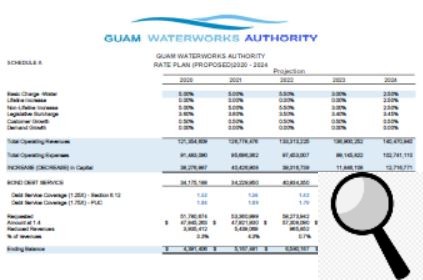 View or download GWA Docket 19-08 Rate Decision (PDF)
On February 27, 2020, the Public Utilities Commission (PUC) awarded water and wastewater base rate increases of 5.0% in FY 2020, effective upon issuance of the PUC Decision, and 5.0% in FY 2021, effective October 1, 2020. Lifeline rates were not impacted and, therefore, residential customers using less than 5,000 gallons per month will see no changes in their bills for FY 2020 and FY 2021.
The FY 2022 – 24 rate adjustments are placeholder values and rate adjustments in those years will be set to ensure GWA meets established financial performance targets. GWA will undertake various analytical studies that will support a FY2022 comprehensive review and update of GWA's financial plan and final rates for those fiscal years will be based upon the results of the studies.
The rate increases will provide GWA the ability to move forward with critical capital improvement projects as proposed in its master plan and adopt a debt service coverage policy to support long term strategic financial planning targets.
GWA recognizes water affordability concerns and will be developing, subject to CCU and PUC approval, programs to help ensure all customers can afford basic services.
In this time of global crisis related to the Novel Coronavirus pandemic, GWA is committed to ensuring that all residents of Guam have access to water and wastewater services to help mitigate the spread of the virus. In addition, GWA is closely monitoring related financial impacts and is developing plans to manage impacts on GWA revenues and expenses.